Weekdays 12p – 3p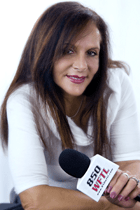 Joyce Kaufman is South Florida's leading independent voice. If you're looking for a partisan cheerleader, call the Miami Heat Dancers. Listen to The Joyce Kaufman Show every weekday at noon right here on 850 WFTL. 
Miss a show? Listen to her Podcast or subscribe via iTunes or RSS feed
Email Joyce – Events – Our Fallen – About Joyce
Just Sayin'
About 15 years ago, I said something nasty on CNN about Donald Trump's hair. I can't now remember the context, assuming there was one. In any case, Trump saw it and left a message the next day.
Continue Reading »